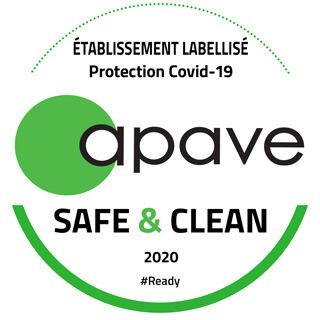 Your health and safety are our priorities
At the Hotel du Printemps, the health, safety and well-being of our customers and our team are our priority.
To welcome you with confidence, we have implemented a reinforced health protocol in accordance with governmental and professional recommendations and provided all the equipment necessary for your protection and that of our staff. These measures will last as long as necessary.
We thank you for the trust, understanding and cooperation that you will show throughout this exceptional period.
Upon your arrival, our team will welcome you in the best conditions, ensuring all barrier gestures.
Marking on the ground and traffic direction at the entrance of the hotel.
Protective plexiglass screen.
Provision of hydroalcoholic gel at reception.
Display of barrier gestures and reminder about hand washing.
Common living spaces disinfected very regularly
Reinforced cleaning of spaces and furniture
Regular disinfection of contact points (elevator, door handles, stair railing, counter ...).
Suppression of paper documentation, books and newspapers.
Limitation of one person per elevator (or couple and family traveling together)
Adapted arrival and departure procedures
Possibility of online pre-registration.
Recommendation for contactless payment by credit card with invoice sent by email.
Sanitary kit available at reception.
Obligation to wear a mask in the common areas.
Respect for barrier gestures and rules for social distancing.
Keeping the key until departure
Systematic cleaning of room keys and payment terminal
A room disinfected before your arrival and cleaning service only on your request
Our room cleaning service will only intervene with your agreement.
Full cleaning and disinfection of the entire bedroom, bathroom and WC using 120 ° dry steam
Reinforced treatment of contact points.
Room ventilation on each pass
Cleaning kit changed between each room
Washing of laundry at minimum 60 °
Removal of accessories (decorative cushions, bed scarves, etc.)
Breakfast to book
Continental breakfast to be reserved at reception to be consumed in the room or in the dining room depending on availability
Respect of a distance of one meter between each table
A team made aware and trained in new health standards at your service
Appointment of a referent of the health protocol in charge of its application, its updating, and the training of staff.
Staff training in reinforced hygiene rules, barrier gestures and social distancing.
Display of essential health information.
Provision of personal protective equipment (HA gel, masks, gloves, wipes, soap, etc.), daily cleaning of uniforms.
Wearing a mask or visor by the whole team.